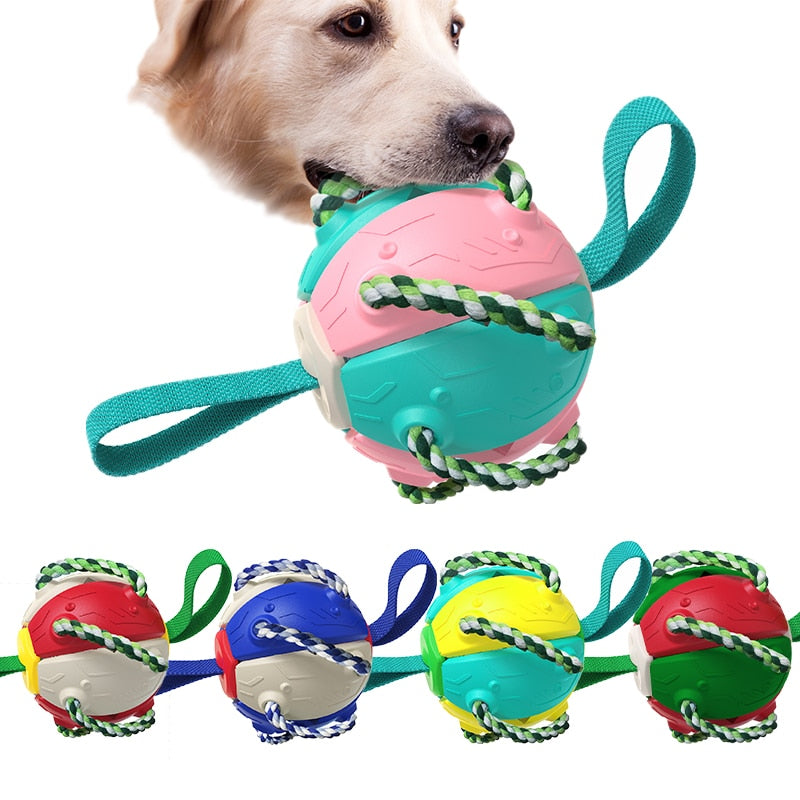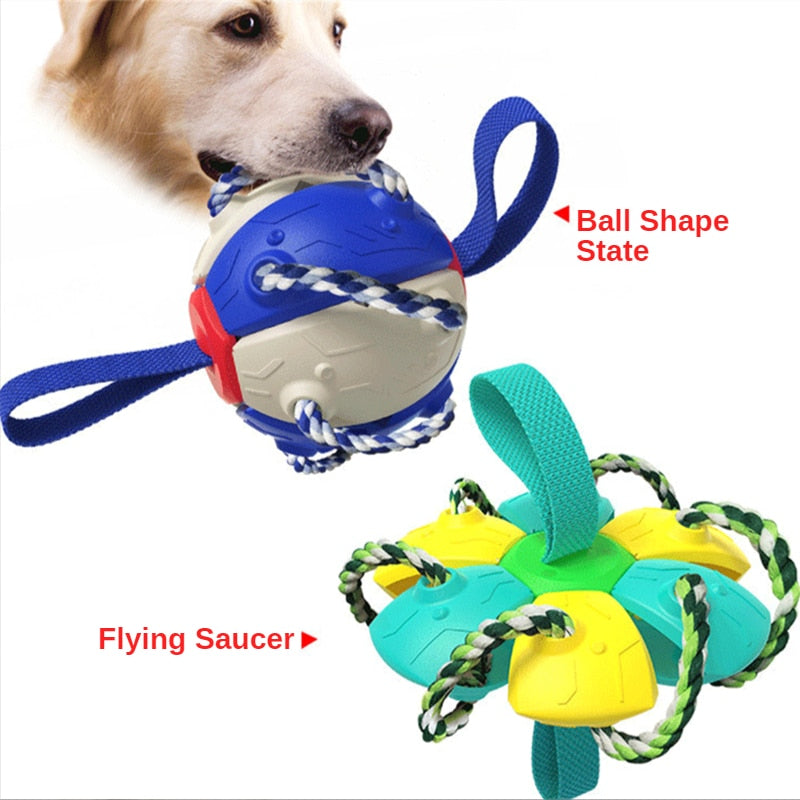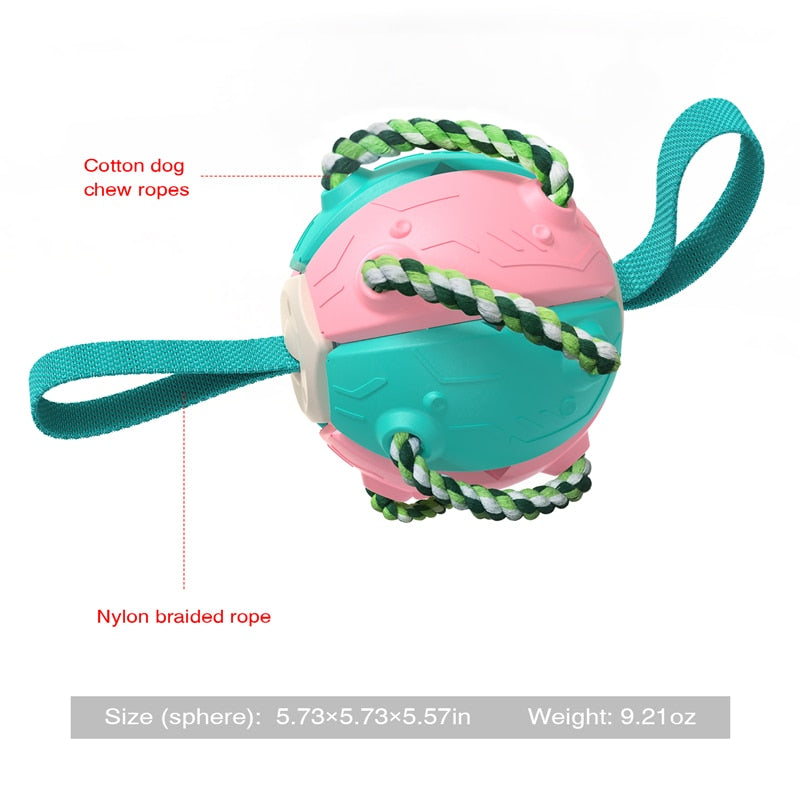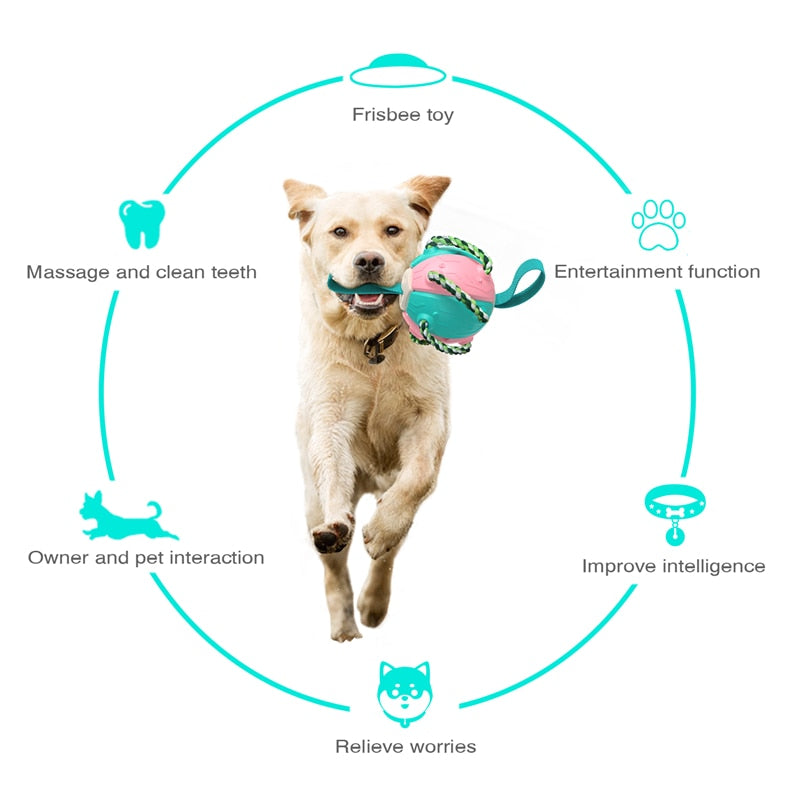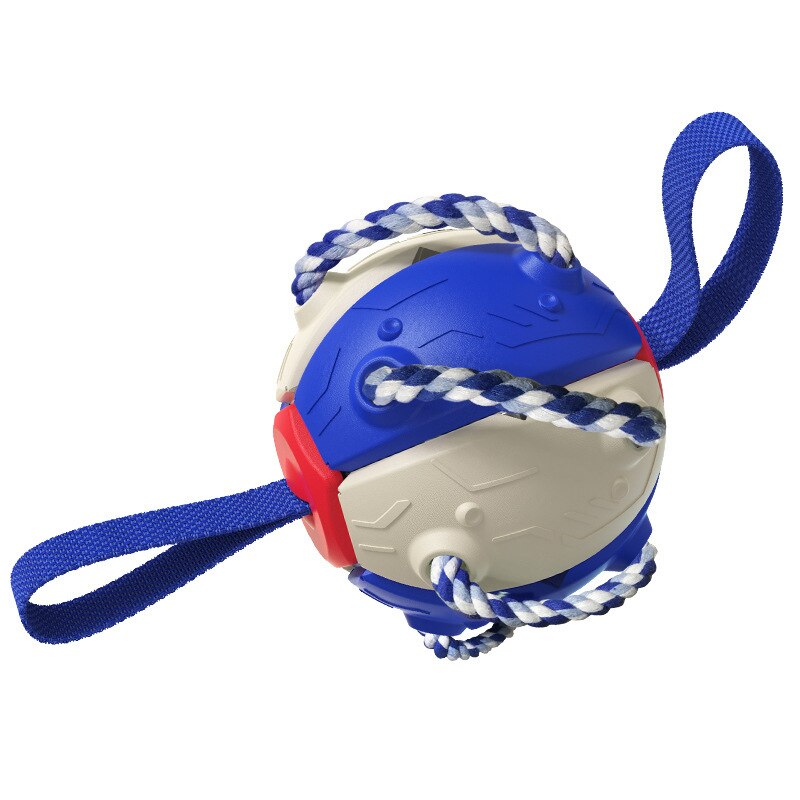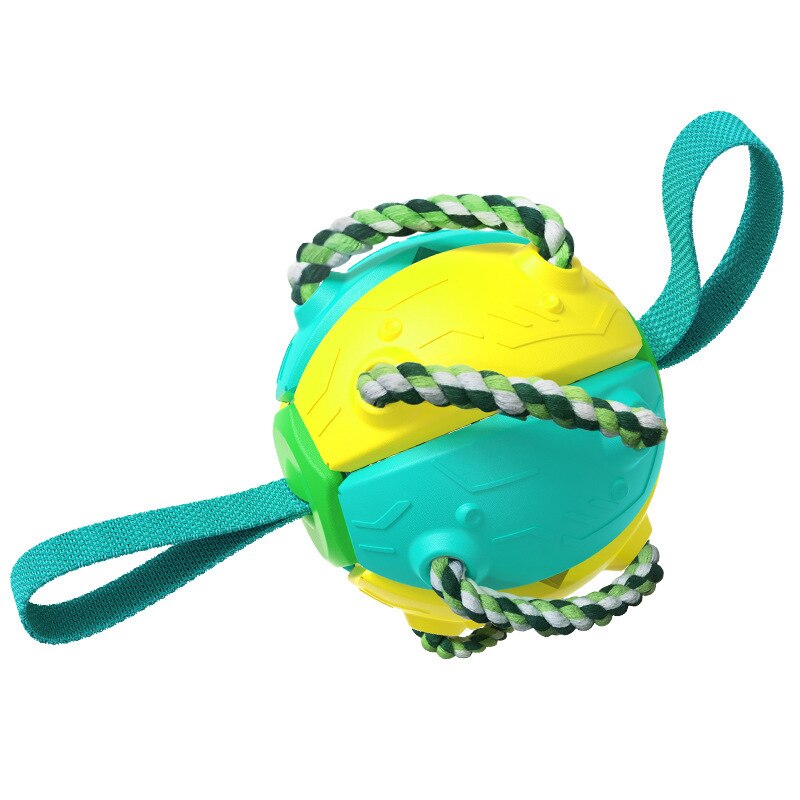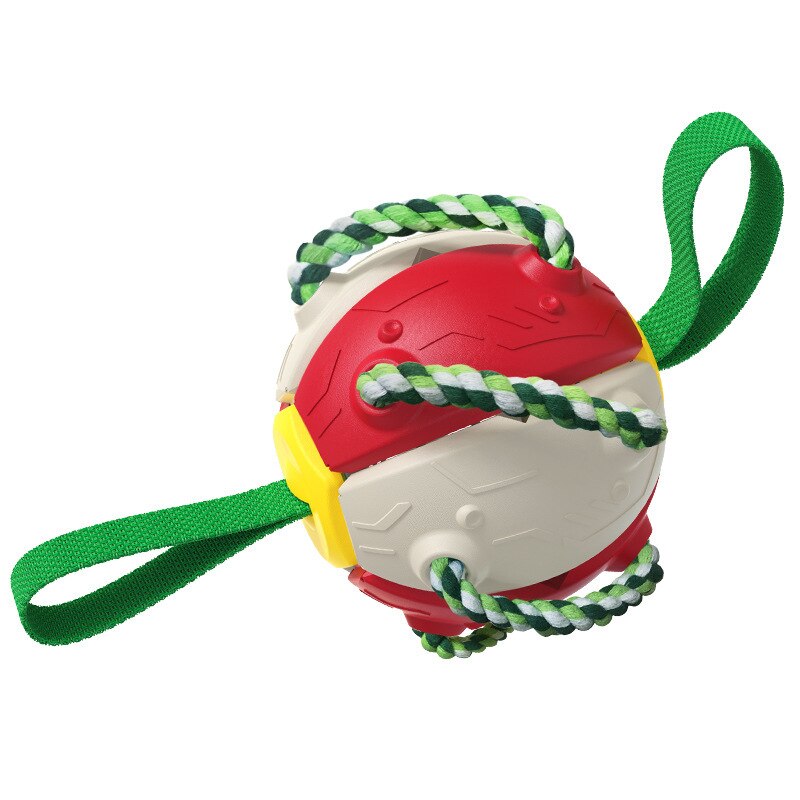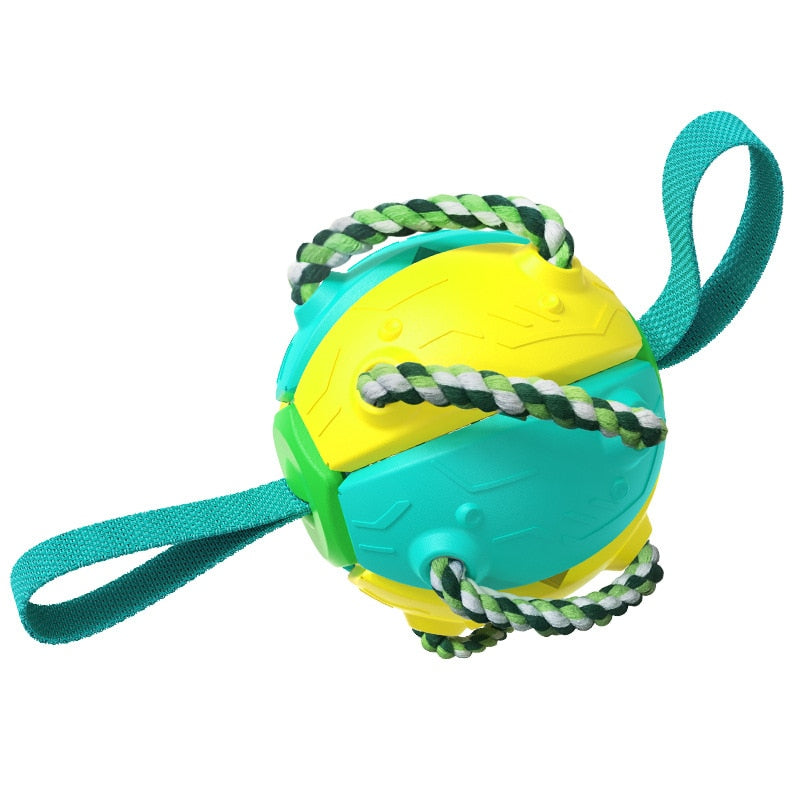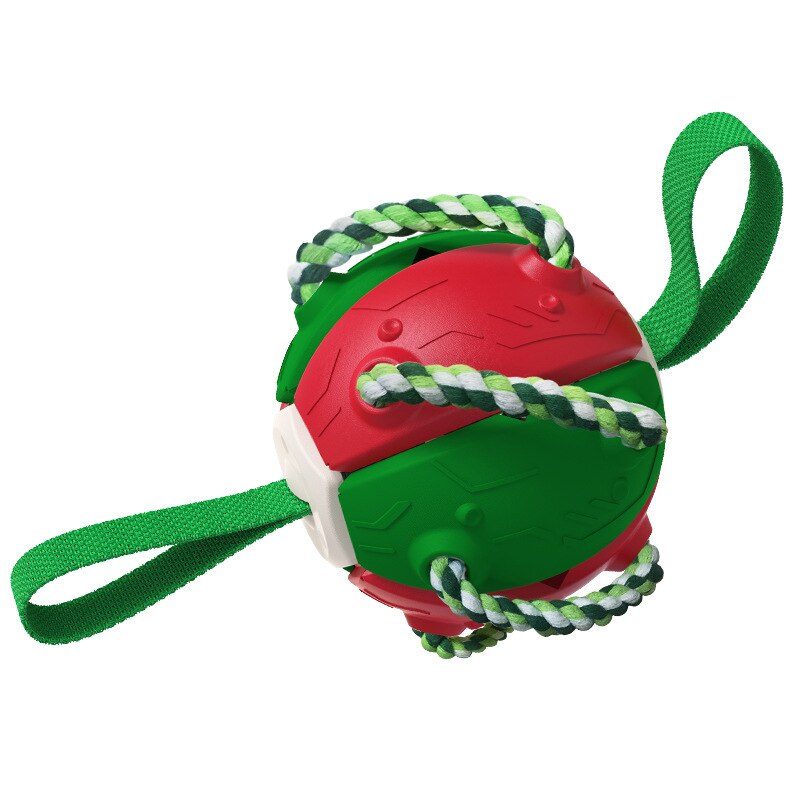 Multifunctional Pet Dog Toy Football for Training Agility and Interactive Play
🎁40% Off on All Orders (Excpet Dog Bed & Dog Mat)
🎁45% Off on Orders over $100 (Excpet Dog Bed & Dog Mat)
Pet Dog Toy Football Training Agility Multifunctional Dog Soccer Pet Flying Saucer Ball Toy Outdoor Interactive Toy Dog Supplies
【Super creative】:
 

Unique frisbee ball design. It can be flattened from a sphere into a frisbee, thrown and then automatically bounced back into a sphere in 3-5 seconds during flight. It's easy to throw, throws far, flies high and has good flight performance. You can use it either as a dog ball or as a dog frisbee toy, I am sure your dog will love it too.
【Multifunctional outdoor dog toy】:
This is a multifunctional fun toy that combines a bounce back frisbee ball, interactive training ball, teething ball, tug of war toy and outdoor sports entertainment for multiple playtime fun for your dog.
【Interactive training ball】:
 You can throw the toy with your hand or kick it with your foot and let your dog retrieve it. It can also be used for interactive water play when the dog is swimming outdoors, enhancing the bond between owner and dog.
【Tug of war toy】:
 

You can use this toy as a tug of war with your dog by holding one end of a woven nylon rope, which can enhance relationship between owner and dog, it can also improve your dog's fitness.
【Teething ball】:
 

The toy is surrounded by cotton chewing rope, which not only stimulates the dog's interest in chewing the toy, but also effectively removes tartar, food debris or dirt from the dog's teeth, protecting the oral health.
【Decompression toys】:
 

Multiple dogs can play together and chase each other to stimulate the dogs' desire to win, improve their intelligence and reduce daily anxiety, better vent their energy and release mental stress.
【Easy to use and carry】:
It can be flattened and secured with a string to fit in a bag, saving space and making it easier to carry.
Contact Us First
If you are not satisfied with this purchase and need to return the goods for a refund, please contact our customer service at service@eagerlive.com to get the return address.
30 Day Money-Back Guarantee for Any Reason
Undamaged products may be returned for a full refund for any reason within 30 days of purchase. Once the returned item arrives back in the Eagerlive warehouse for inspection, the refund process will begin.
High Quality! Top Satisfaction
Your satisfaction is our top priority. If you are unsatisfied with your purchase, you can return it for a refund or exchange.
We have the return & exchange time period of 30 days,You can make returns after you receive your packages.
Customer Service: service@eagerlive.com
Note: We will reply within 48 hours
Return Policy
At Eagerlive, returns are easy! We strive to offer the best shopping experience, including fast and hassle-free returns. Please contact Customer Service to process your return.
Products with quality problems
If the product arrives defective, we will arrange a new package and ship it out for free. Please send us an email via service@eagerlive.com with your order number, picture and kindly explain the problem.
Please be assured that anything wrong with us will be corrected immediately.
Products are fine. But I just don't like it
For general items, products with no quality-related issues can be returned within 30 days of receiving your order. As soon as we receive your returned items, we will arrange refund or exchange for you. Don't hesitate to get in touch with our customer service for the details of the return or exchange. You will be responsible for all shipping fees.
Any product that has been used does not qualify for a return. Returned items must be unused, with original tags and packaging. Return please inquiry:service@eagerlive.com 
How to Make a Return
Step1: Request a return
Please submit a return request by contacting our Customer Service within 30 days of receiving your order. Please attach the explanations and photographs stating the reason for your return. In the case of size deviation, please note the difference between the actual ordered size and the size of the received item, which will save us processing time and speed up your refund. We reserve the right to not accept the return without prior approval from our Customer Service.
Step2: Pack up & Send off your items
Once our Customer Service has approved your request, we will provide you with a return address and detailed return procedures. Please send the item(s) through your local post office within 3-5 working days of receiving the return form.
- Please only use the normal economic Post Office Service. (UPS returns are only available within the U.S.)
- Please record your tracking number to follow your return's progress. Eagerlive is not responsible for lost or stolen items.
Step3: Refund processing
All of the returned item(s) will go through inspections. We will process the refund within 3-5 working days. Once the refund has been processed by us, it usually takes 3-10 business days for the funds to be credited to your account, depending on your bank or payment service. Your bank or payment service may levy a small transaction charge. service@eagerlive.com 
All PayPal payments can only be refunded via PayPal, all Credit Card payments will only be refunded to the original Credit Card.
Please Note:
*We reserve the right not to process the refund if they are returned in unacceptable condition. All returns must be in their original condition - unworn, unwashed, unaltered, undamaged, clean, and salable with original tags and packaging. Once any tag has been removed, an item cannot be returned.
*About Parcel Rejection: We reserve the right not to process the full refund to you if parcels are rejected without contacting us before. Under this situation, the parcels may be lost on the way back since it was not recorded and will not be tracked along the way back.
If you change your mind after the parcel is shipped out, please contact our customer service promptly and we will process the refund to you as soon as we receive the returned parcel.